What are comments?
Comments allow you to add "notes" on documents and assessments. Use comments to eliminate email chains that tend to be disconnected at times. The comments you enter will always remain within the application even if the user that made the comments leave the company. CENTRL separates internal and external comments into 2 levels, the folder level and the file level.
Folder Level
Internal Comments
Navigate to the folder overview page by clicking on the Folder Name in the Quickview screen. Here you can select the Internal tab to make comments on the folder level. Use the '@' symbol to tag internal users, which will notify them with an email notification.

External Comments
Folder level External Comments can also be found in the Folder Overview page. Click External to compose a message to all external partners. This will send a message to all partners associated with this folder.
File Level
Internal Comments
To access file level Internal Comments on a file, navigate to a sent or received file.
To submit a comment, hit enter and your message will be shared with internal users who have access to the document.You can tag specific internal users using the '@' symbol. Teammates who are tagged on the file will receive an email notification.

External Comments
File level External Comments allow you to collaborate in context of the file. You can access File Level External Comments by navigating to the File Viewer and clicking on the External Tab. In the External Tab, users can write External Comments for the file selected.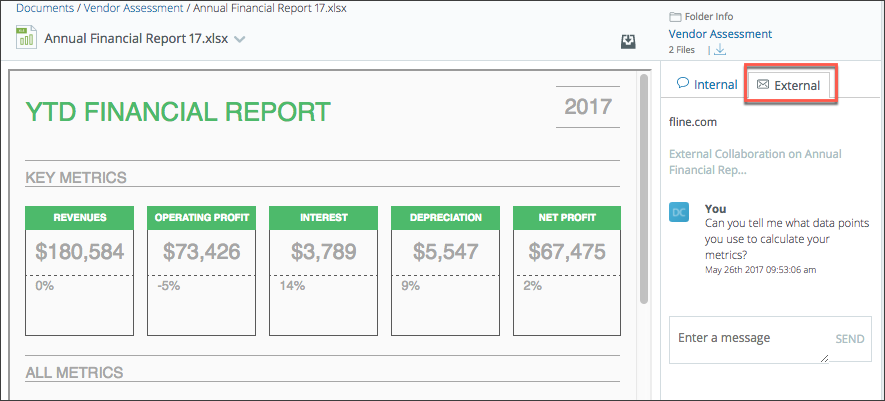 Client Connect users can cycle between the different partners using the dropdown to easily communicate with all their parties on the published folder.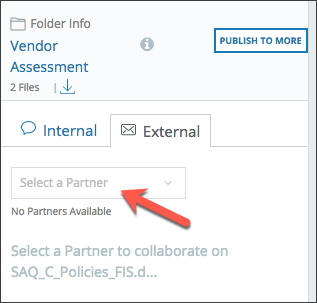 The recipient(s) will receive an email notification and will be notified in app in the Quick View and on the Folder View.