At the time of publishing, you can define permissions for all recipients or distinguish at a partner level. By default, "Download All Files permission" is selected. If the Publish as Read-only box is unselected, the recipients will receive the file in its original format. There will not be an automatic PDF conversion.
Advanced Permissions Overview
If enhanced partner-level capabilities are needed, you can select the Advanced Permissions link to select permissions on a partner level.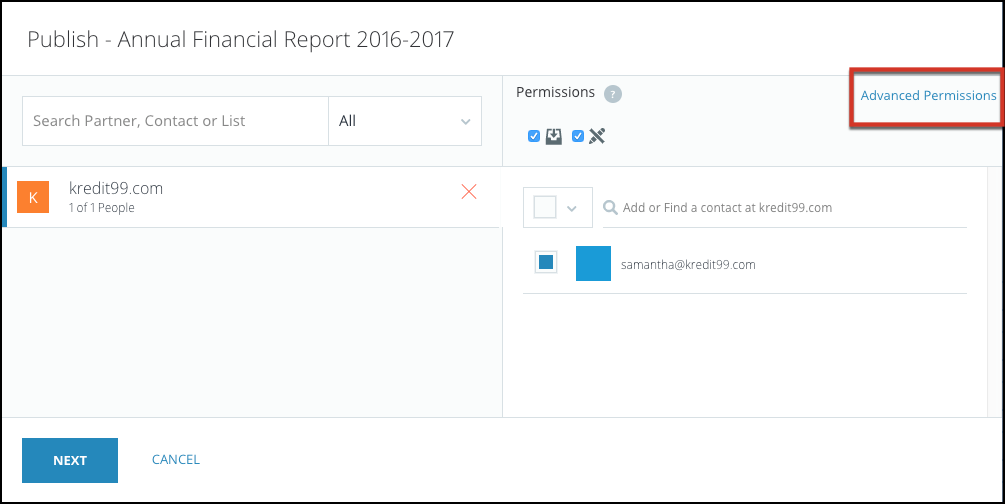 Once you click on Advanced Permissions you will then be taken to this screen. This is where you can assign permissions to Partners for your Document Folder.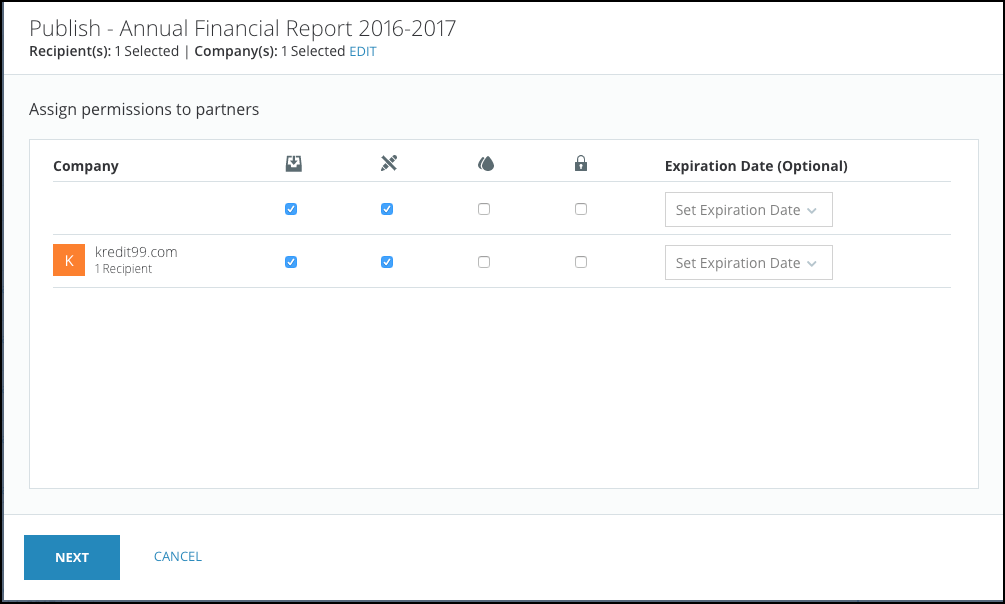 Publish as Read-Only 
Publish as Read-Only will allow the recipient to download the files as a Read-Only or View-only File.
If Publish as "Read Only" is unchecked, the user will download the files in its original format. 
While publishing Read-only documents, All Word, Powerpoint and PDF Files will be downloaded as PDF files. Whereas, Excel and CSV Files will be downloaded as HTML.
File sizes above 80MB will be downloaded by the recipient in their original format.
Download Ability 
The Download ability enables the Recipient to download all Files in the Folder.
By default, this button is checked on and the recipient CAN download the document
If the download button is unchecked, then the recipient CANNOT download the document
When the download button is checked and the Publish as Read-only is unchecked, the recipient will be able to download the document in its native format.
Watermarks 
A watermark is a transparent text that is applied to a document to protect the original copy.
Watermarks can be defined at the time of publishing.
When checked, Watermarks are applied to all files inside the document Folder.
Watermarks includes the company name, email address from sender, and date.
Recipients will see the watermark in the viewer and in the files that are downloaded as PDF.
If publish as Read-only is unchecked, Watermarks will not be applied when a user downloads the file. Our system cannot overlay a Watermark on the original file
Note: File sizes above 80MB, Excel, CSV Files and non-supported type files will not have the watermarks applied. 
Publish as Private 
When checked, only the recipient(s) you have published to will be able to receive the Document Folder. Other users in the recipient's organization will not be able to see the document unless you explicitly publish the document to them.
Private Documents are not automatically shared with the recipient's division and company.
In order to share this document with a division, the sender would have to individually add the new recipients when this permission is checked. 
Expiration Dates 
Expiration dates can be placed on Document Folders when needed.
They are defined at the time of publishing.
When a Document folder expires, an email notification will be sent out and the recipient will no longer be able to view the files in the folder.