The Inbox acts like a home page with widgets offering snapshots of module activity and a notification feed of various alerts and informational updates.
Note: This is only available to users in Partner Connect only.
This article covers the following topics:
Widgets
Users with access to assessments and partners (or vendors) will see widgets above their notification feed. These widgets offer a snapshot of activity and let users take quick actions. We will continue to rollout widgets over future releases.
To read more about widgets, checkout the main article here: Inbox Widgets.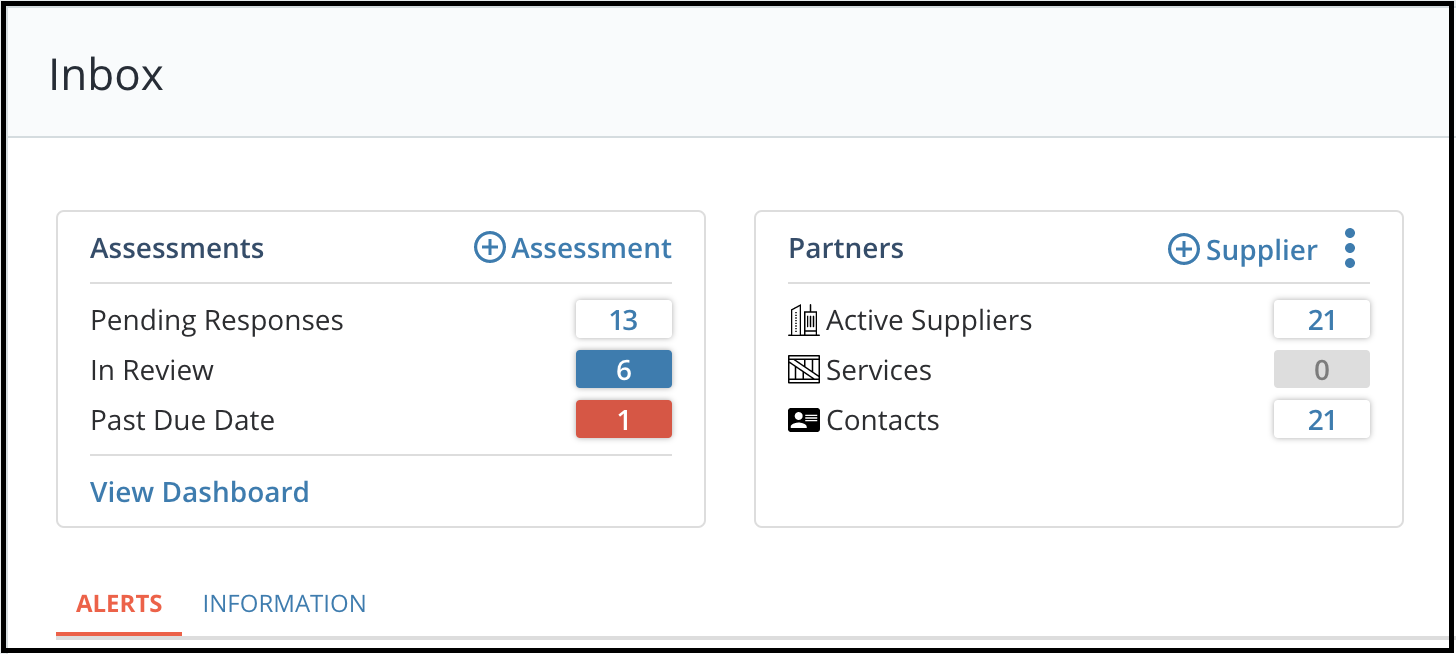 Below widgets, users will see a notification feed. This feed is split into two sections: Alerts and Information.
Alerts
The Alerts tab will display any items requiring action from you. Alerts are categorized to help you prioritize your work. We have defined several categories of Alerts.
Urgent Alerts are those that are the most pressing and likely require your attention first.
To-Do Alerts are those that are directly assigned to you and items that are not urgent yet but have an approaching deadline.
Upcoming alerts are those that notify users for approaching deadlines.
Note: The number inside the category filter buttons tells you how many unread Alert notifications you have. Alerts are unread until you click on them. Also, Information is unread until you open the information tab. Finally, you can mark a notification as Read or Unread or Delete.
Filtering your Alerts
On the Alerts tab, you can filter by category or view all alerts using the All Filter. When the All filter is selected, then all the categories of Alerts are displayed.
Click on the individual filters; All, Urgent, To-Do and Upcoming to filter your alerts as per your requirement. Users can view the 'Unread' messages by checking the 'Unread Only' checkbox.
Information
The Information tab is a feed of general activity taking place in the application which is not time-sensitive.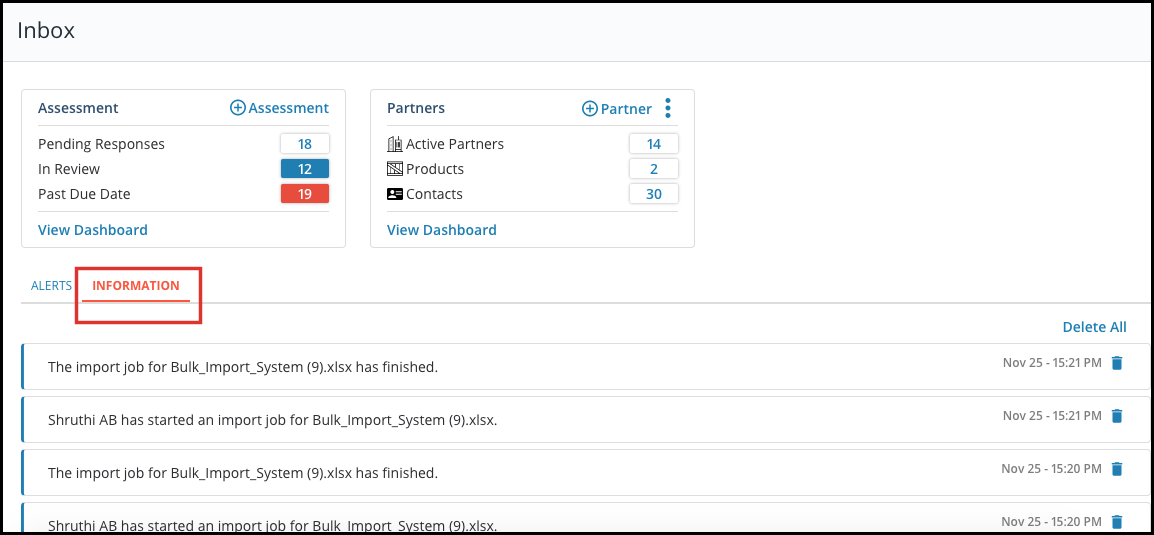 Managing your Inbox
For all alerts, the notification will remain in the inbox until manually deleted.
Note: The Inbox will automatically clear out alerts for which corrective action has been taken by the user.
Managing your Alerts
You can manage your Alerts by deleting each alert individually. You also have the option to mark an alert as Read or Unread as per your requirement.
Note: When you click on an alert to view the notification details, the notification is marked as Read.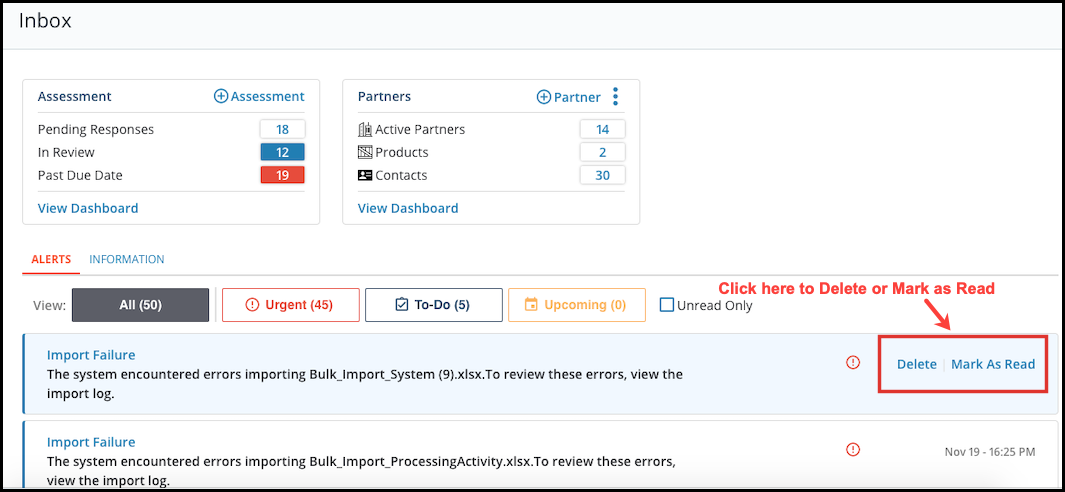 1. You can hover over the alert and click on Delete or Mark as Read/ Unread to manage your alerts.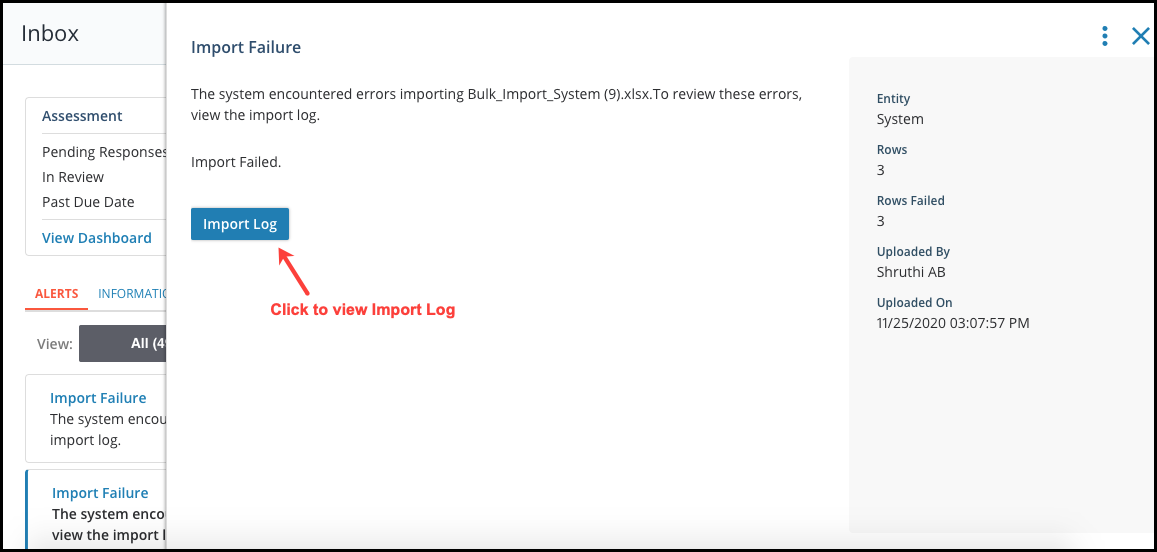 2. Click on any specific alert to start managing it.
3. Within the Quick view, you can immediately take appropriate actions by clicking on the buttons prompted on your screens.
Managing your Information
You can manage your information by deleting each notification individually or bulk-deleting Information at once.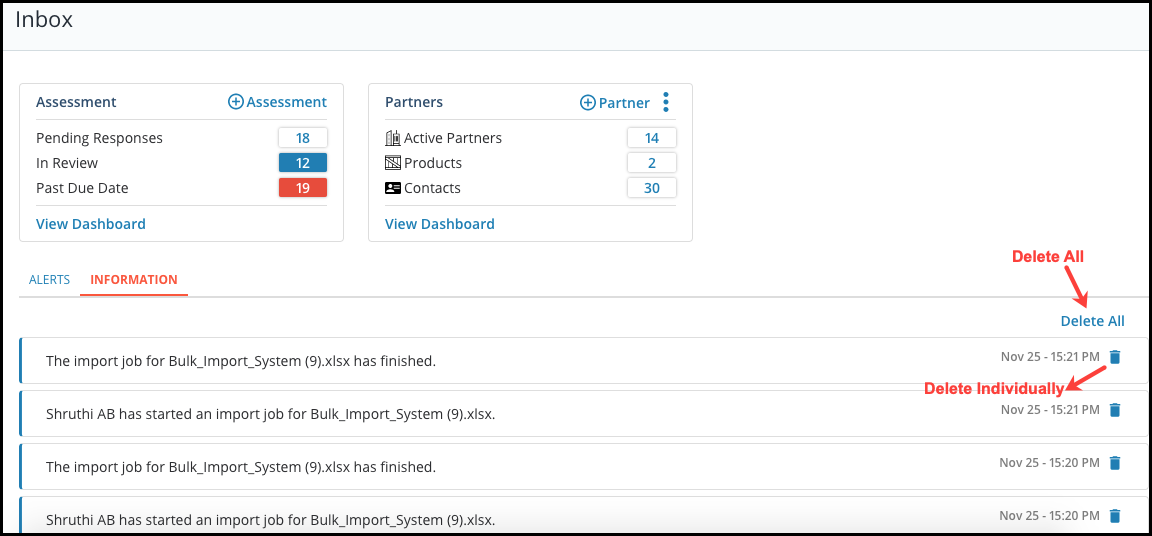 Click on the Delete icon, as shown above, to delete each information individually. Click on the Delete All link to delete all notifications.