In CENTRL's Document Module, you can Bulk Publish, which allows you to publish multiple document folders to one or more business partners at the same time.
Note: Only Document Administrators can bulk publish

1. If you are a Document Administrator and want to access the Document Admin module, click on the > arrow next to Documents icon in the left toolbar.
2. Then click on Admin, which will take you to the bulk publishing page.
3. Select the folders that you want to publish. For recurring Folders that have multiple periods, the most recent period will be selected by default. If you would like to select other periods, click on the dropdown for the Folder under the Periods column and select the periods you wish to add. A green check mark will appear for the periods that are selected. When you are done, click Publish Documents

4. Select partner contact(s) you want to publish to and click Next.
5.If you want to change the permissions of the folders, click on Advanced Permissions. If not, click Next to continue.
6. Here you can set different permissions for each folder. For more information on the different types of permissions, read Advanced Permissions. Once you are finished selecting the proper permissions click Next.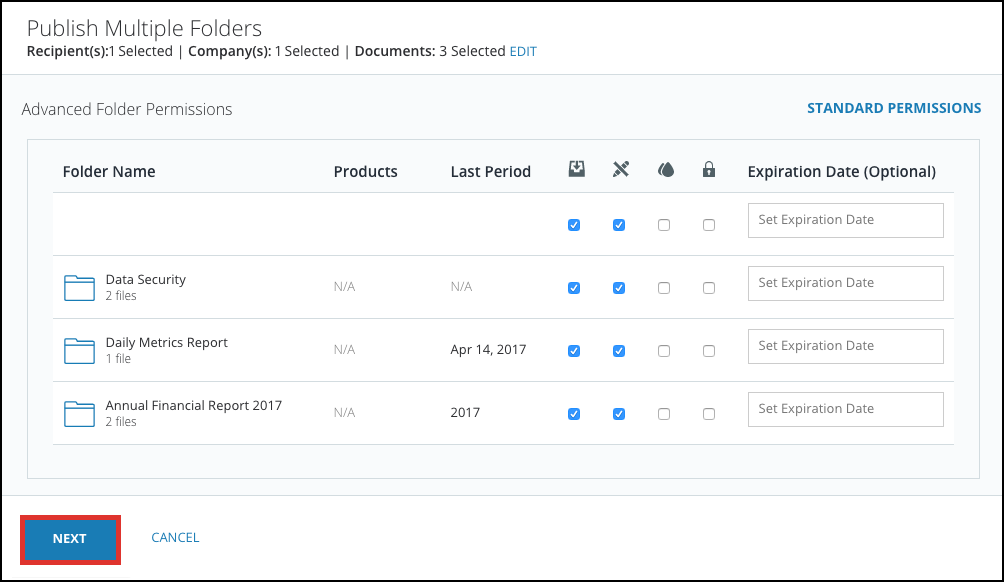 7. Once you are done click Publish to send the document folders to your partner(s).