CENTRL's Issue Management module allows you to create, publish, and track issues you find with your partners. For example, your partner may have sent an incorrect answer requiring further follow up. The appropriate action may be to create an issue and send it to your partner for them to review.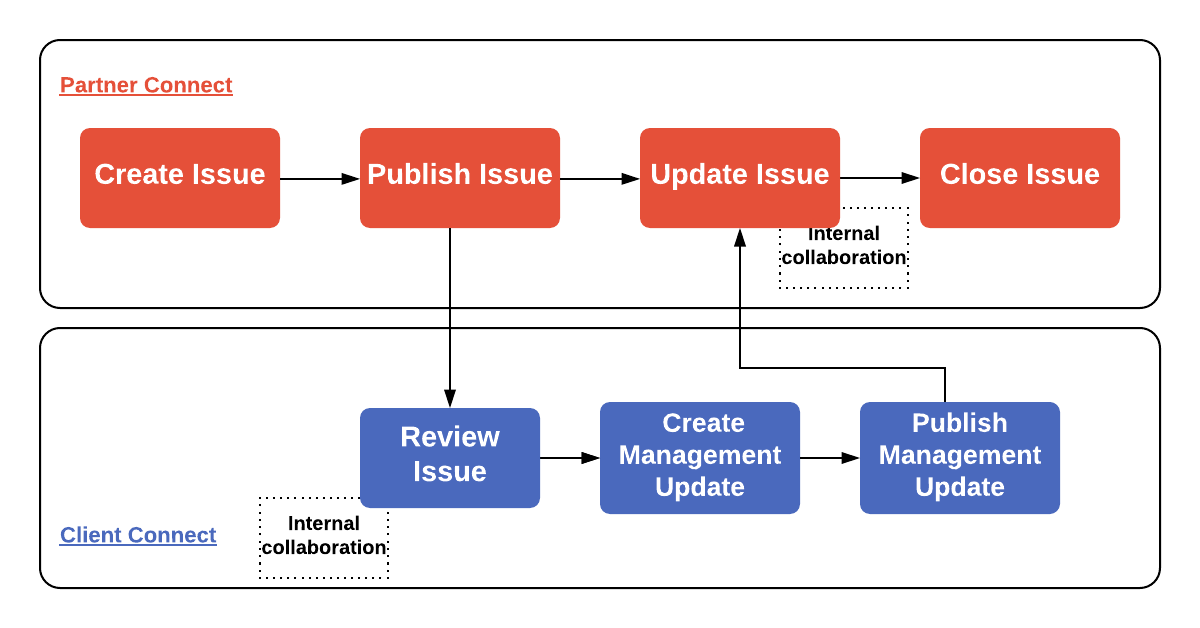 Creating Issues
When you are evaluating a questionnaire, users can create issues from questions they have received. When you create an issue, the issue begins in either a Potential or Open status. Potential issues can move to an Open (confirmed) status or to an Invalid status. Click here to learn more about creating an issue.
Publishing Issues
After creating issues, Partner/Vendor Connect users have the option of publishing the issue to their partner.  Publishing an issue will allow the associated partner to view and respond to the issue. The issue will not be visible to the Partner until it is published. Click here to learn more about publishing an issue.
Reviewing and Responding to Issues
Upon receiving issues published by the partner, recipients can view and respond to the issues in either the Partner Space or Issues Management Module (Subscribed Users). Users can formally respond to their partners by creating and publishing Management Updates. In addition, users can collaborate using External Q&A and internally with their team using Collaborators. Click here to learn more about viewing issues sent by your partner.
Creating Management Update:
Users can formally respond to issues by creating a Management Update. A Management Update allows you to send a formal response to an issue that was identified and sent by the partner. Here, users can enter the response and attach documents. Click here to learn more about creating management updates.
Publishing Management Update:
After creating a management update , users can Publish the Management Update to their Partner for them to review. Click here to learn more about publishing management updates. 
Note: Users can also mark the issue as Complete to indicate that the Issue is ready for review by the partner
External Q&A
Issue Owners for the sender and recipient of an issue can communicate with each other using the Q&A section. Modeling a Question and Answer format, messages can be nested within each other to have focused conversations on a question or clarifying assumptions. Click here to learn more about Communicating with your External Partners.
Internal Collaboration
Users who have access to an issue can add collaborators to assist in responding or reviewing an Issue. Click here to learn more about collaborating on an Issue.
Updating and Closing Issues
Throughout the process, users can track and review the status of their issues. The Partner/Vendor Connect user can make updates to the issue during this time based on the communication with the recipient of the issue. When they are ready, they can mark an Issue as Closed based on the progress and response from their partner. Click here to learn more about Closing an Issue.