Invitations in our platform offer a way to explicitly review and permit or block incoming requests from clients and partners prior to adding them to your company's backlog.
When publishing an assessment or issue to a recipient with whom you have no prior connection to on our platform, the recipient must accept the invitation before viewing and responding. After this invitation is accepted, the assessment or issue will appear in the relevant queues (i.e. on the Active Assessments and Issues pages) as will all future requests between you and the same recipient.
This article covers the following topics:
Accepting the new invite from the email notification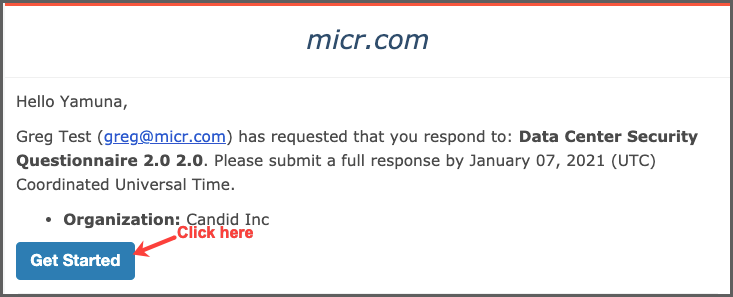 When a questionnaire is published to a new user, they will receive an email notification and can accept the invitation implicitly by clicking on the Get Started button as shown in the screenshot above.
Accepting the new invite from Pending Invitations modal
Registered users with pending invitations will be prompted on login to review all of their pending invitations. They can choose to accept all directly from that modal, ignore and revisit at a later time, or go to the full list of invitations for more actions.
1. Click on the Accept All button to accept all the pending invitations.
2. Alternatively, you can click on the Go to Invitations Button to view all invitations.
Accepting the new invite from the Invitations screen

1. Click on the Invitations icon as shown above in the screenshot to visit the Invitations list.
2. Click on the Accept button for each invitation you wish to accept. Future requests, whether assessments or issues, from that sender, will be automatically added to your queue without any further invitations.
Note: Ignoring an invitation will effectively block that request from the sender.