Receive Assessment: First Time Recipients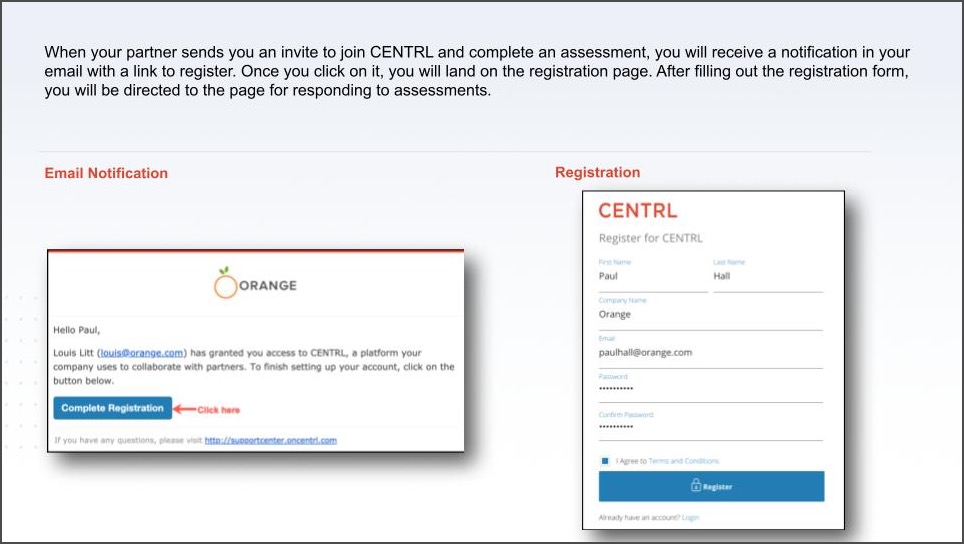 Note: CENTRL does not support Internet Explorer (IE). For the best experience please use an alternate browser. We are optimized for Google Chrome, Mozilla Firefox, and Safari.
Receive Assessment:
Returnin
g
Users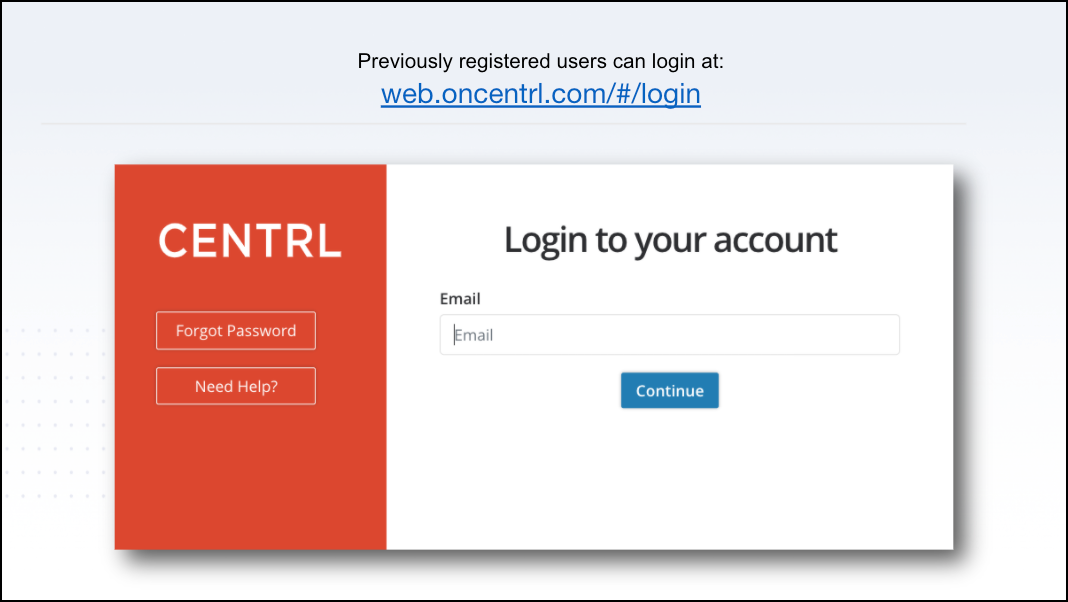 To reach our login screen, click here
For guidance on resetting your password please visit:
Password Reset
Partner Screen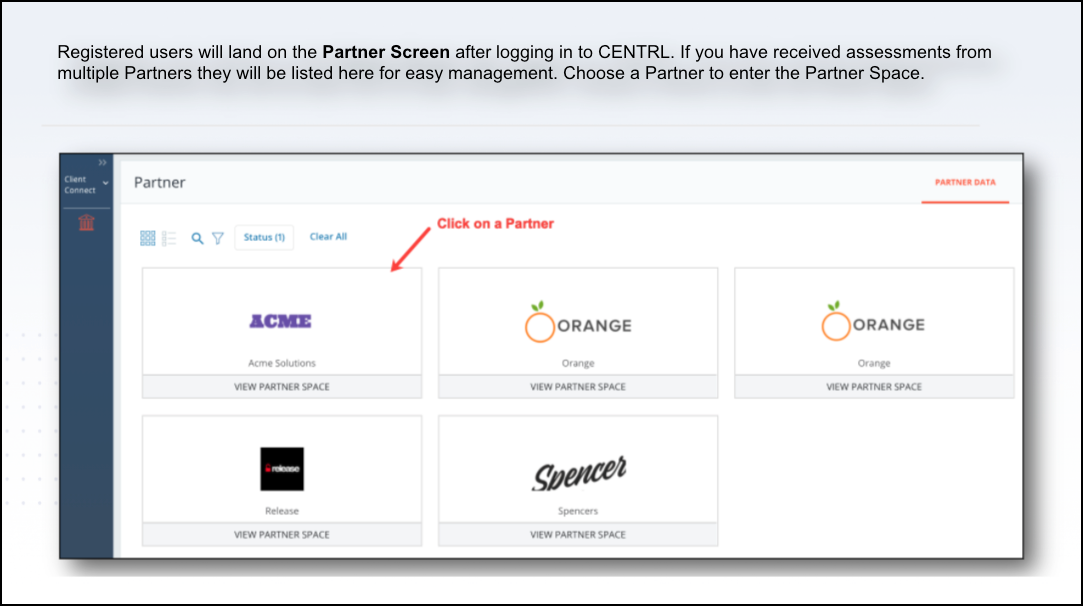 Active Assessments Screen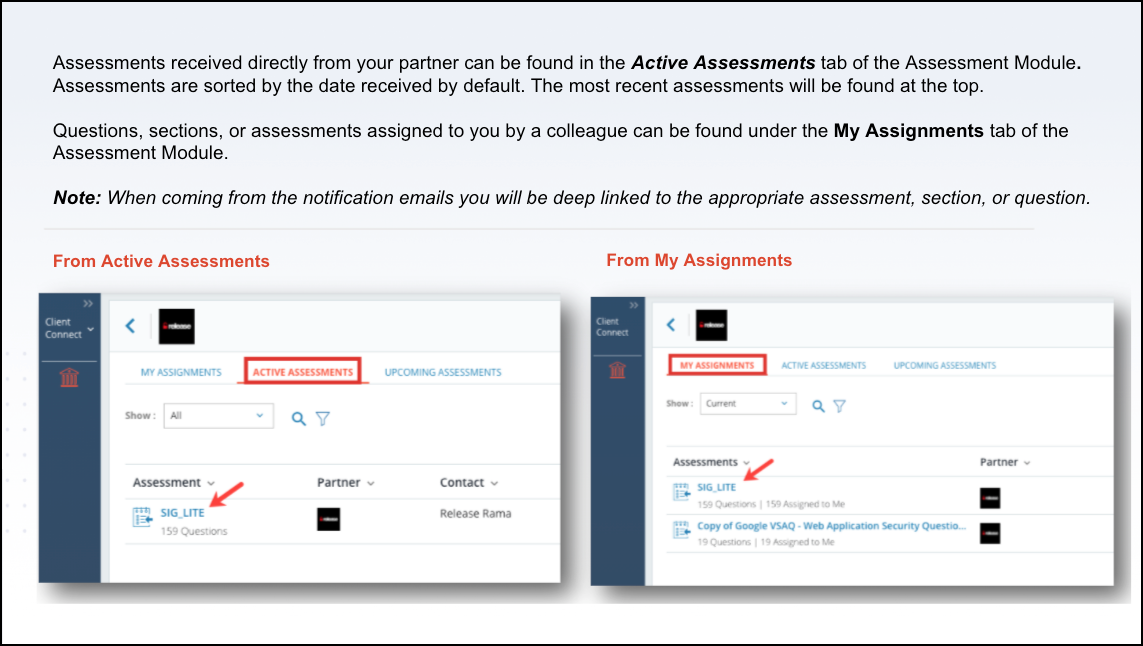 Provide Your Response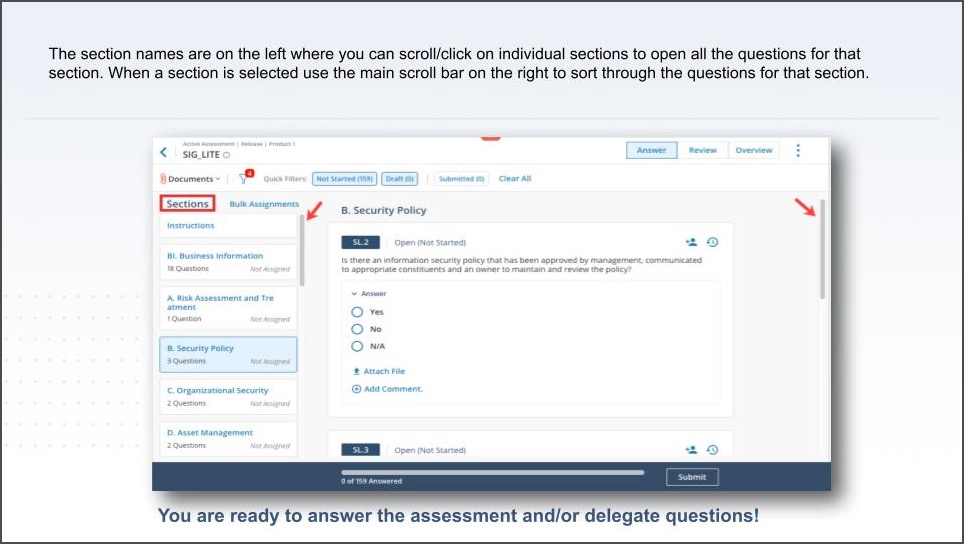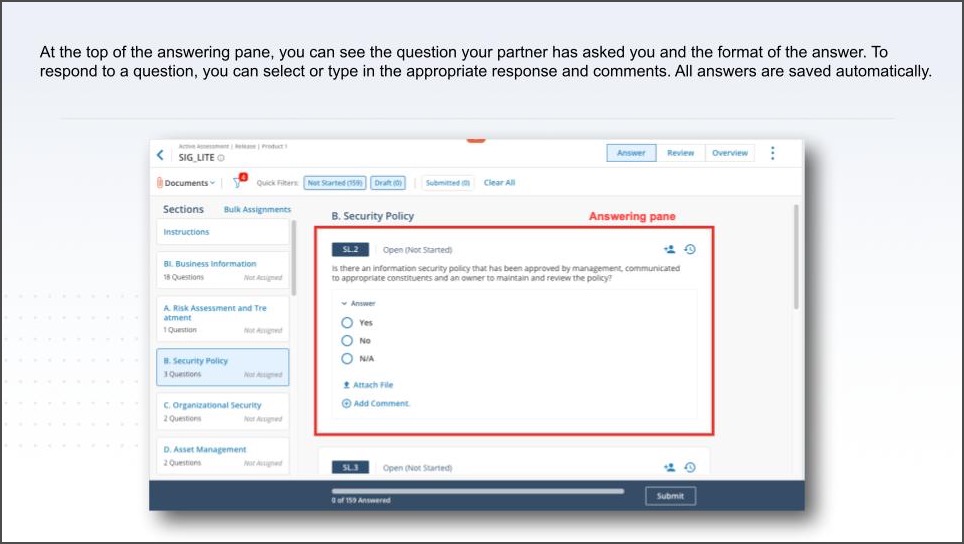 Answer Types
For a complete overview of CENTRL's answer types please visit: Answer Types and Question Types
Updating Pre-populated Answers
For your convenience, some answers may have been pre-populated from a previous iteration of the assessment. To learn more about updating a pre-populated answer or reverting to a pre-populated answer, please visit: Editing a Pre-populated Answer
Adding Comments to an Answer
While answering a particular question you have to option to add a comment alongside your answer. For more information on how to add or edit comments at the question level, please visit: Adding and Editing a Comment to an Answer
Answering Follow-up Questions
Certain questions may trigger additional follow-up questions based on your initial answer. To learn more about answering follow-up questions, please visit: Answering Follow-up Questions
Answering Mandatory Questions
The publisher of an assessment has the option to designate any number of questions as mandatory. One or more unanswered mandatory questions will prevent you from submitting an assessment. To learn more about answering mandatory questions, please visit: Answering a Mandatory Question
Assessment Filters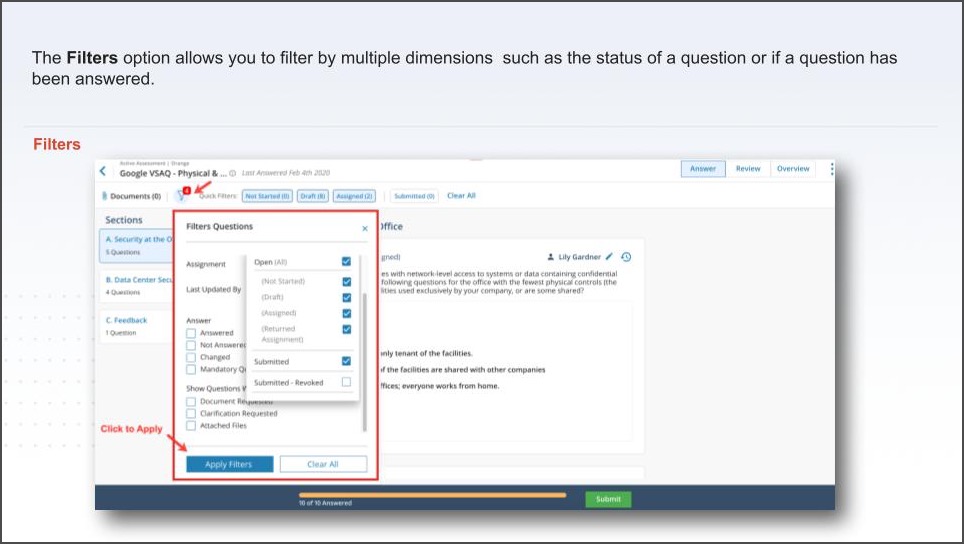 CENTRL allows for the filtering of an assessment by multiple dimensions. To learn more about the Filters option, please visit: Applying Filters
Documents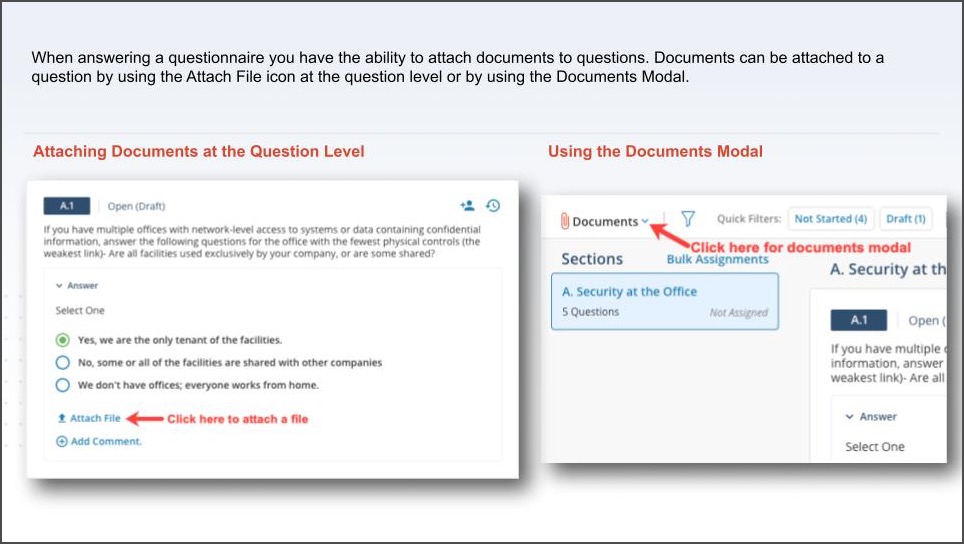 The assessment publisher has the option to request files as part of an assessment. For more information on attaching documents at the question level or using the documents modal, please visit: Uploading Documents to Questionnaires
Assignments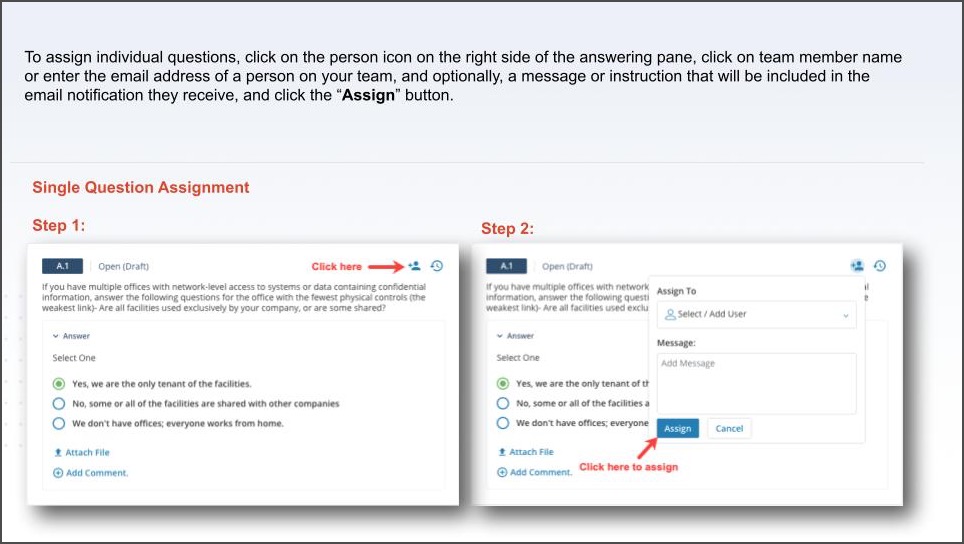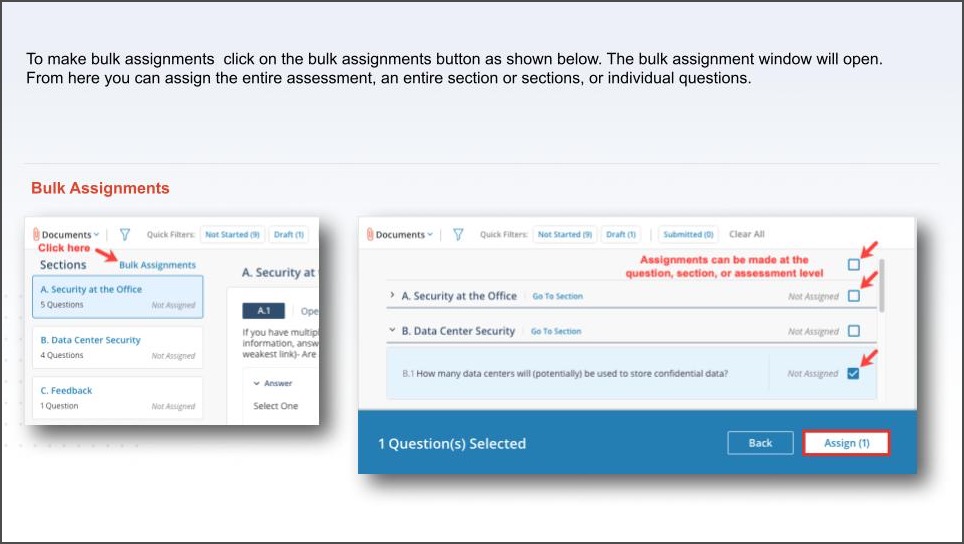 For your convenience, CENTRL provides the option to bulk-assign questions. To learn more about this feature, please visit: Assigning Questions and Sections
Question History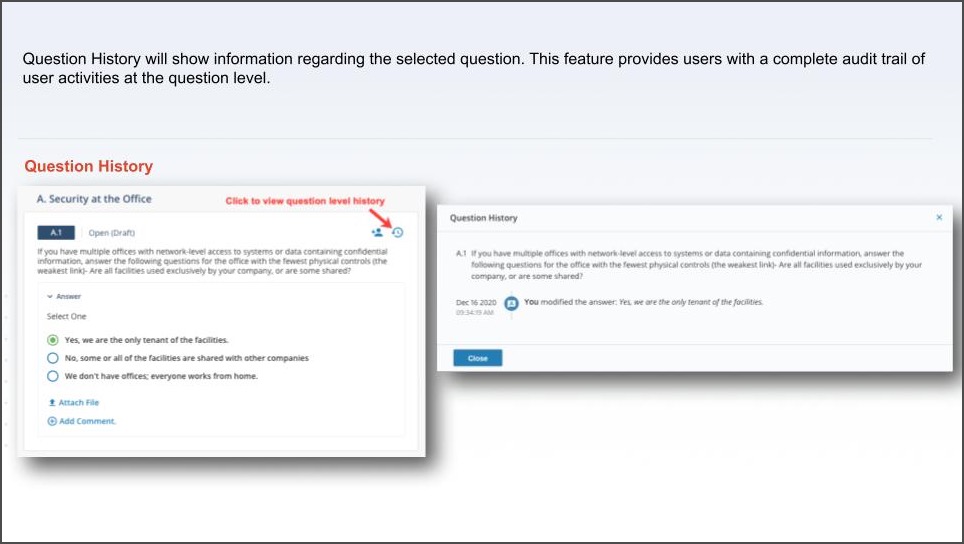 To learn more about question history, please visit: Question History
Changing the Collaborator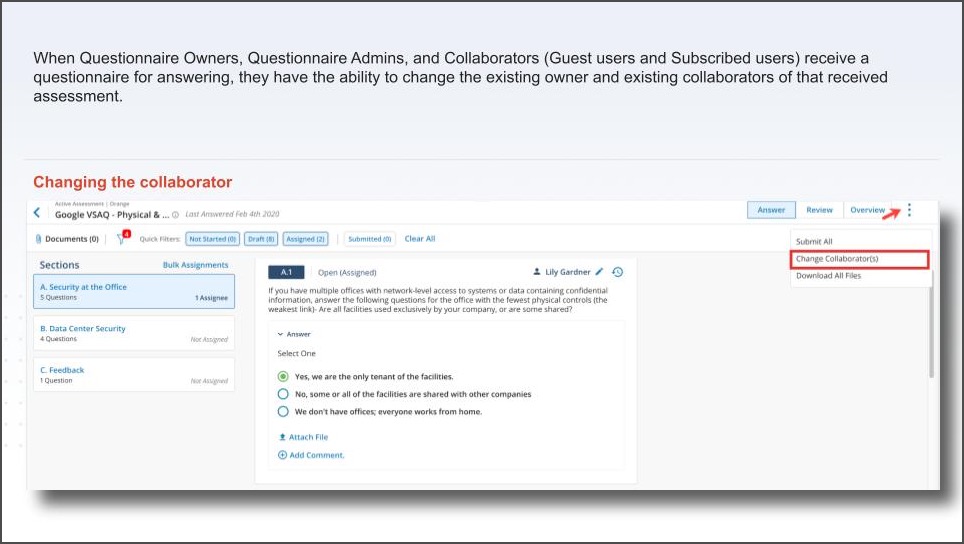 To learn more about changing collaborators please visit the following article: Change the Collaborators
Tracking your progress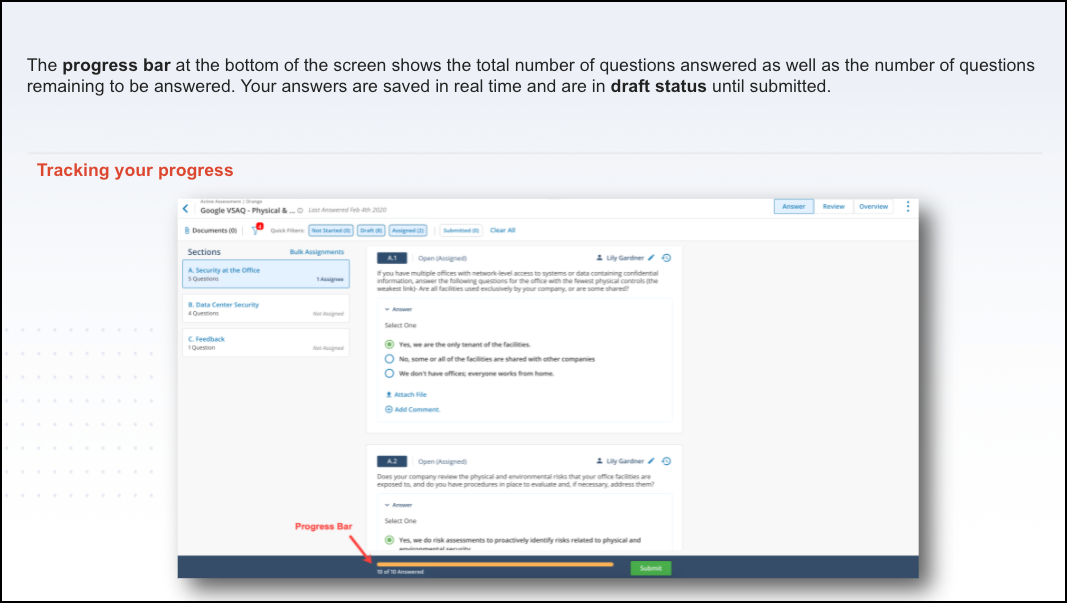 After you have completed a pre-submission review, click the Submit button at the bottom of the screen.
Review & Submit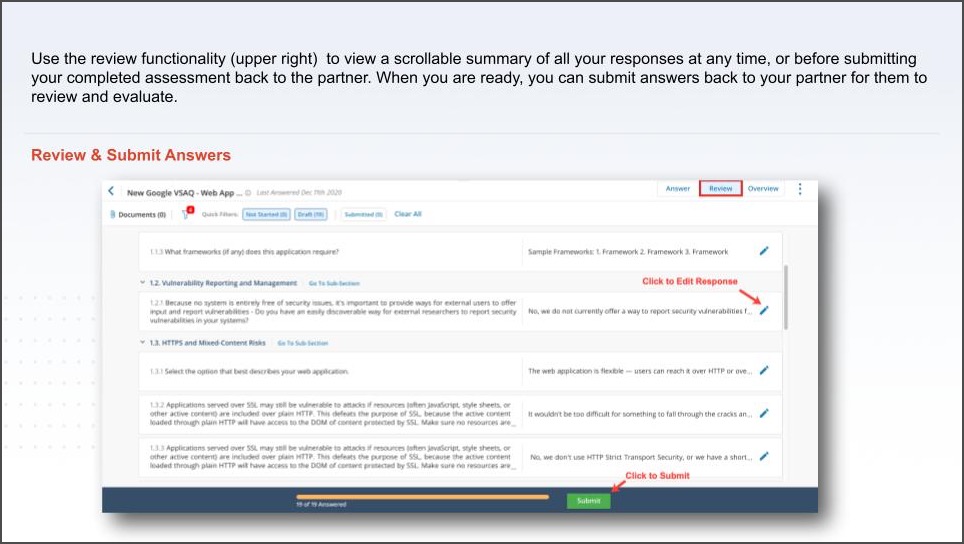 You can download and keep a copy of the assessment and all related files for your records. To learn more about this feature please visit: Viewing and Downloading all Files attached to an Assessment
Incomplete Submissions

Be advised that a warning message will appear if you attempt to submit an incomplete assessment. This includes any assigned questions which must be completed by the assignees prior to your submission.
Responding to Clarifications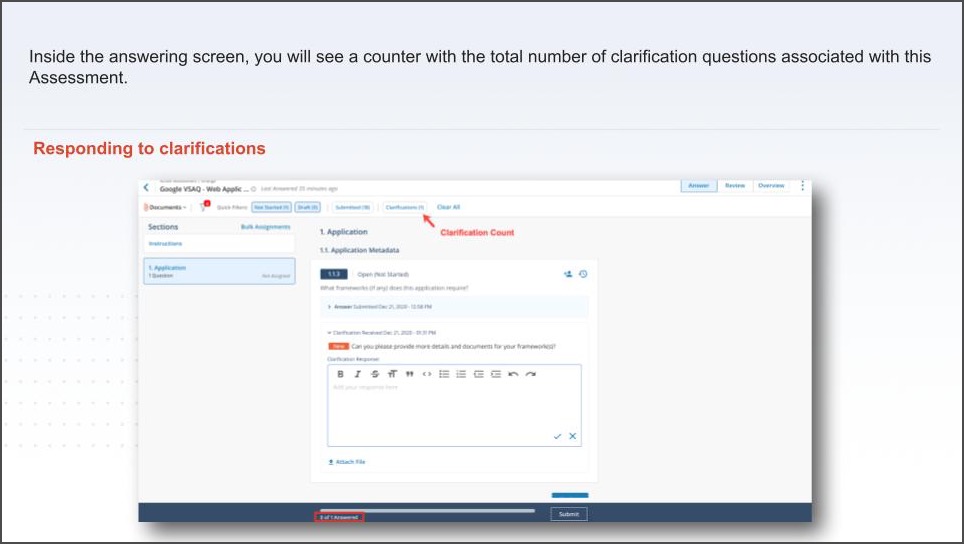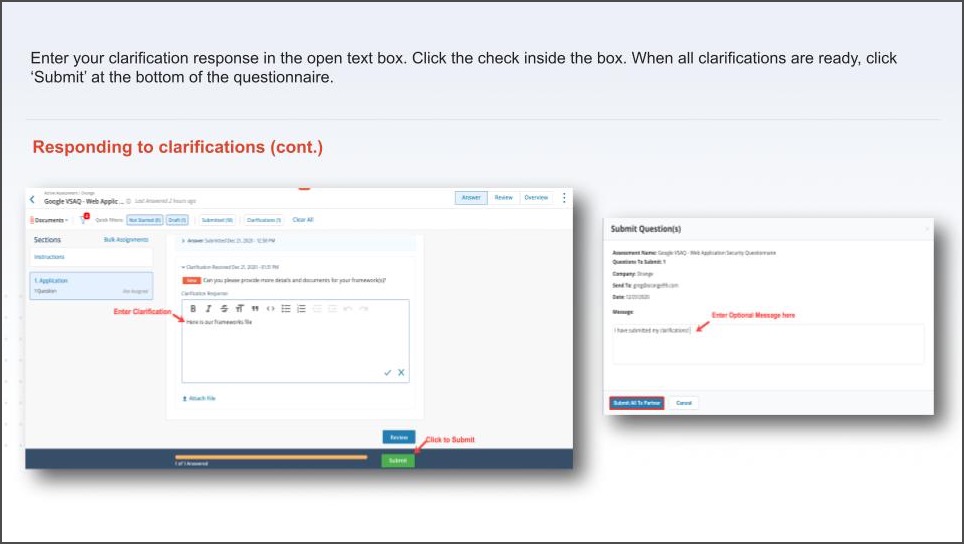 As part of evaluating an assessment, clarifications may be sent by your partner when they have additional questions based on the answers you submitted.To learn more about assessment clarifications on please visit: Responding to Clarifications
External Communication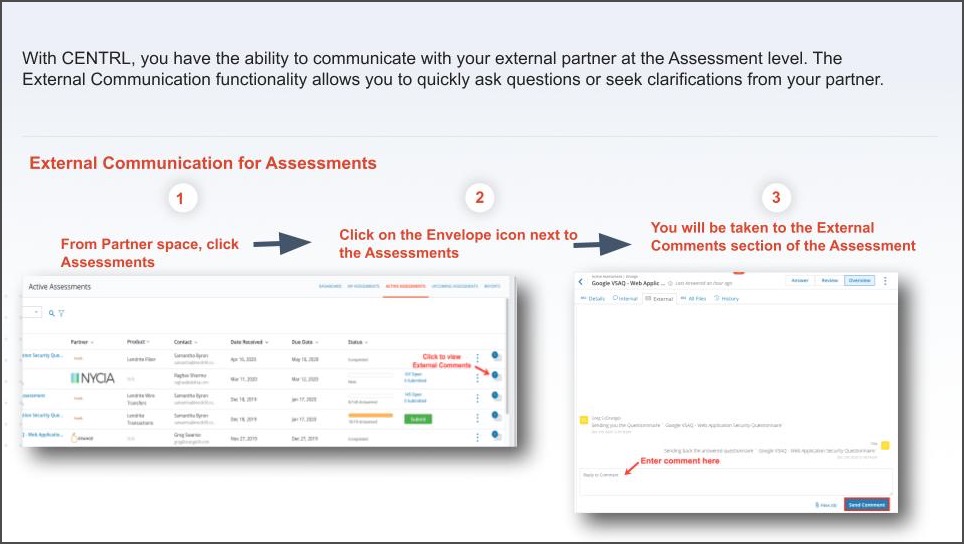 To learn more about our external communication feature please visit: External Communication for Assessments
Issues Management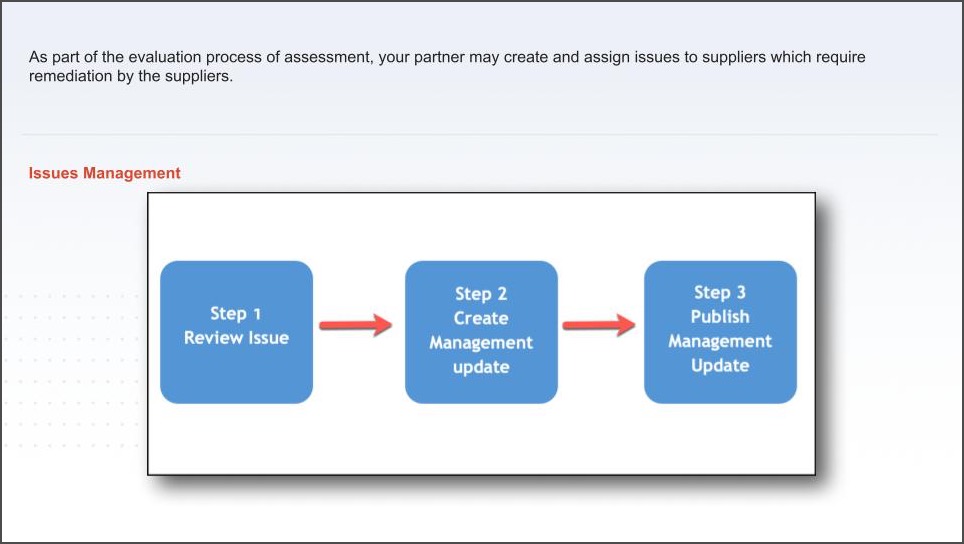 Issue remediation generally involves four steps: using the external Q/A, collaborating on the issue with colleagues, adding management updates, and finally publishing management updates. To learn more about the issue remediation process please visit: Responding to Issues
Respond Offline (pdf, excel)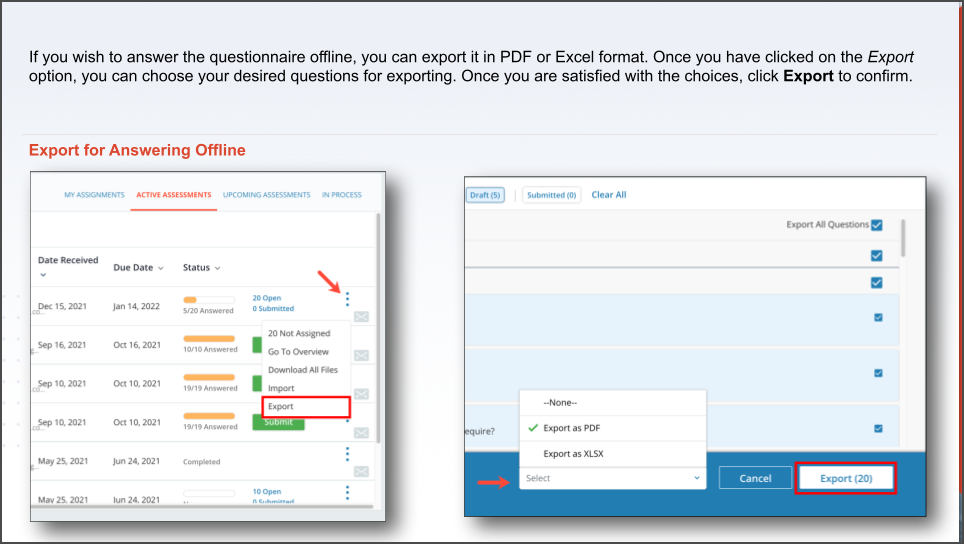 Note: PDFs may default to open by the browser's PDF Viewer, however some answer types and features are not available for answering in this view. We recommend opening and answering assessments offline using Adobe Acrobat Reader which will have most answering capabilities available.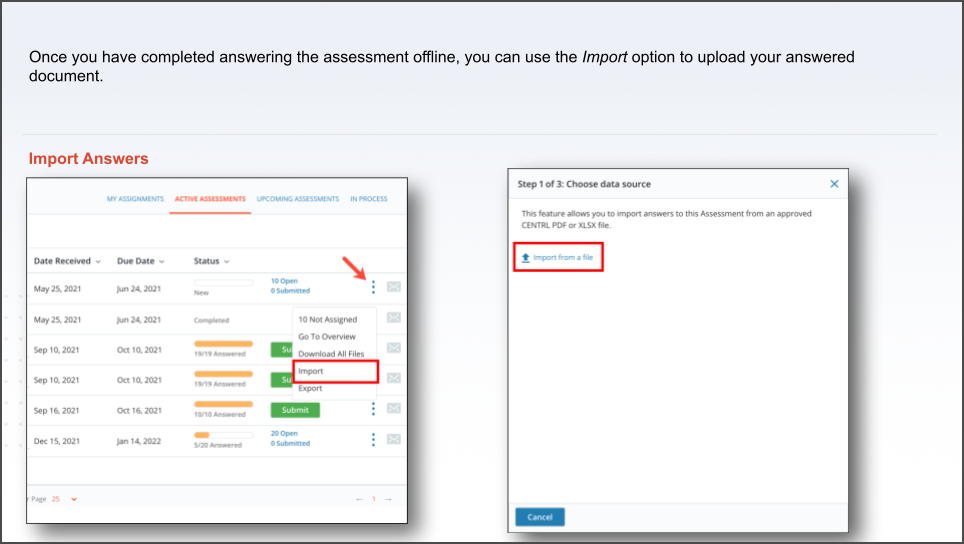 Note: The same PDF template can be used for multiple assessments if the source questionnaires are exactly the same. Please note uploading to multiple assessments is not available for XLSX format.
For a comprehensive guide on answering offline, please click the following link: Downloading Assessments for Answering Offline