Data Inventory Request owners can submit individual responses or everything at once back to the Data Processing Officer (DPO) for review. When the DPO receives responses, they can review each answer and import them to populate the Data Inventory.
This article covers the following topics:
To learn in detail about the other features while answering a data inventory survey, click here
Navigating to Active Survey
From Email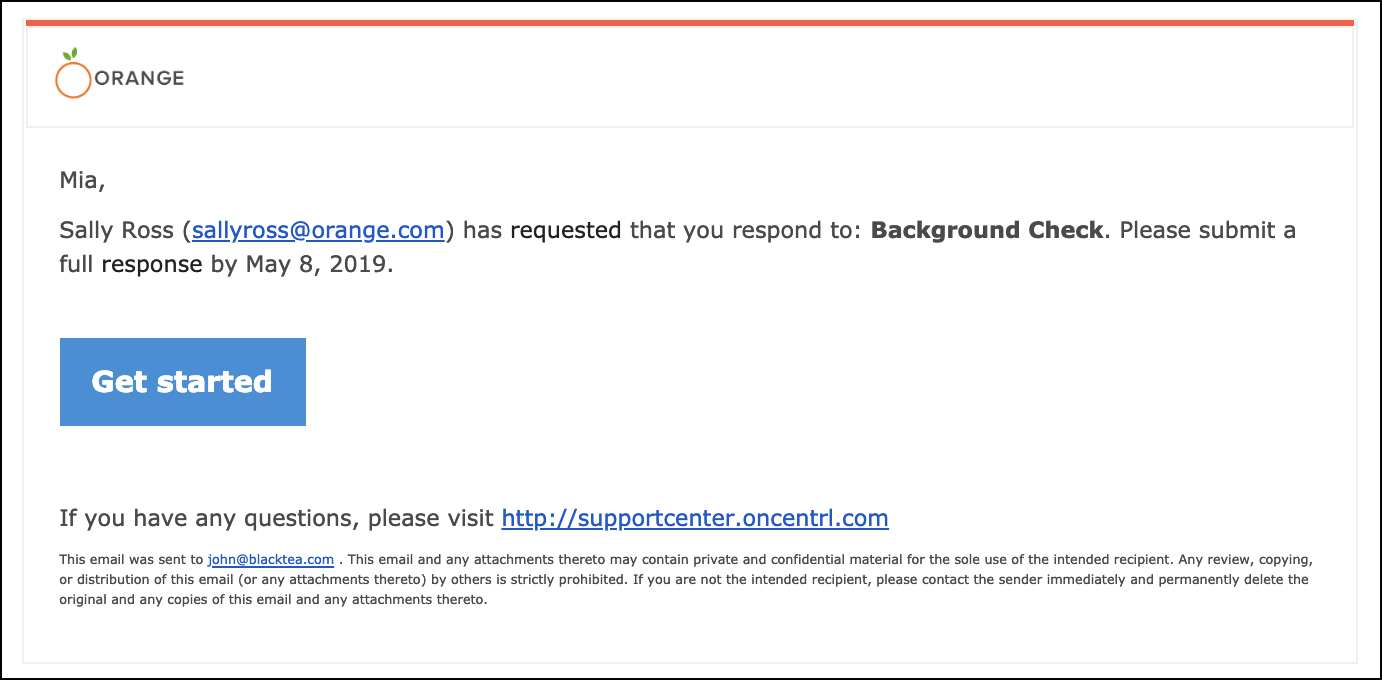 From the Active Surveys screen
Redesigned Survey Responding view to be more streamlined and intuitive for your DPO when responding to surveys. All questions in a section display in one scrollable view.

1. Navigate to the Data Inventory module from the sidebar and click on the Active Surveys link.
2. Click on any survey you wish to respond to and click on click on any question to start answering.
View Instructions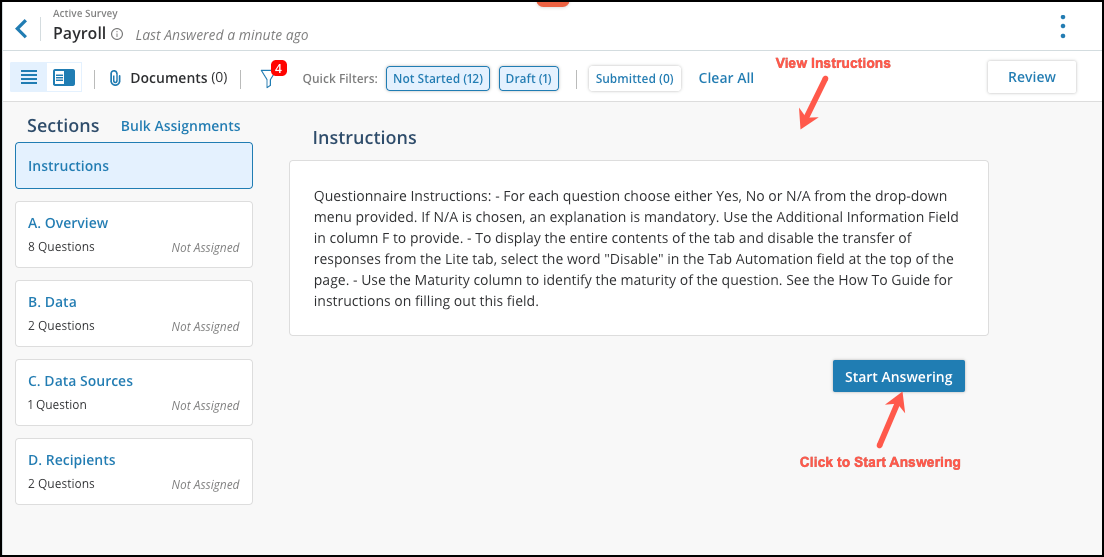 By default, you will land on the
Instructions
section, where you can view instructions sent by your DPO to assist in responding to the received questionnaire.
Adding Answers to Survey
CENTRL's system supports multiple answer types including Open Answer, Yes/No, Multiple Choice, Documents, Tables, and Others. In order to answer the question, you can select or type in the appropriate response. To move on to the next question, you can scroll down. To move to the next section, click on the Next Section button.
Note: All answers are saved automatically.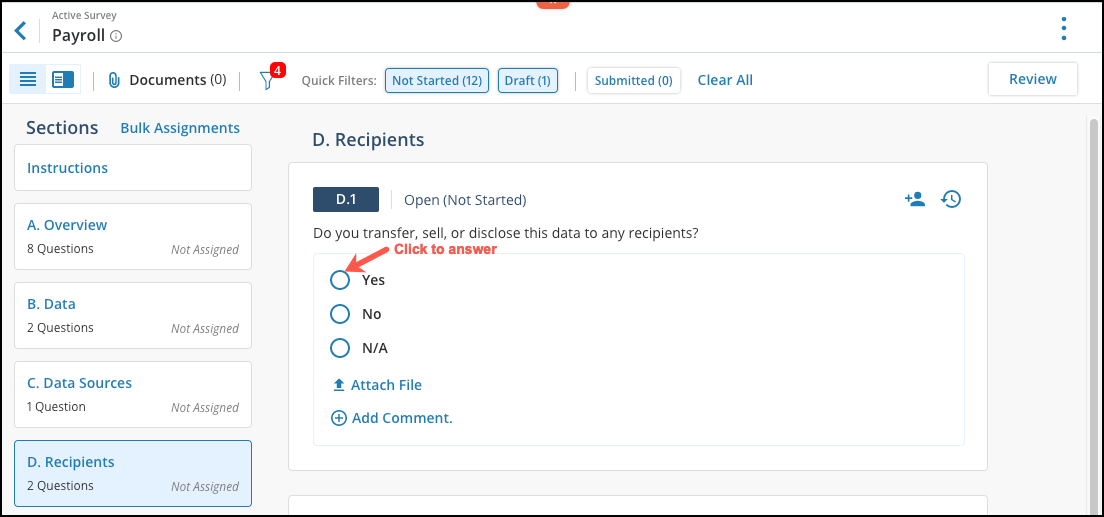 1. Click on the checkbox to select your answer.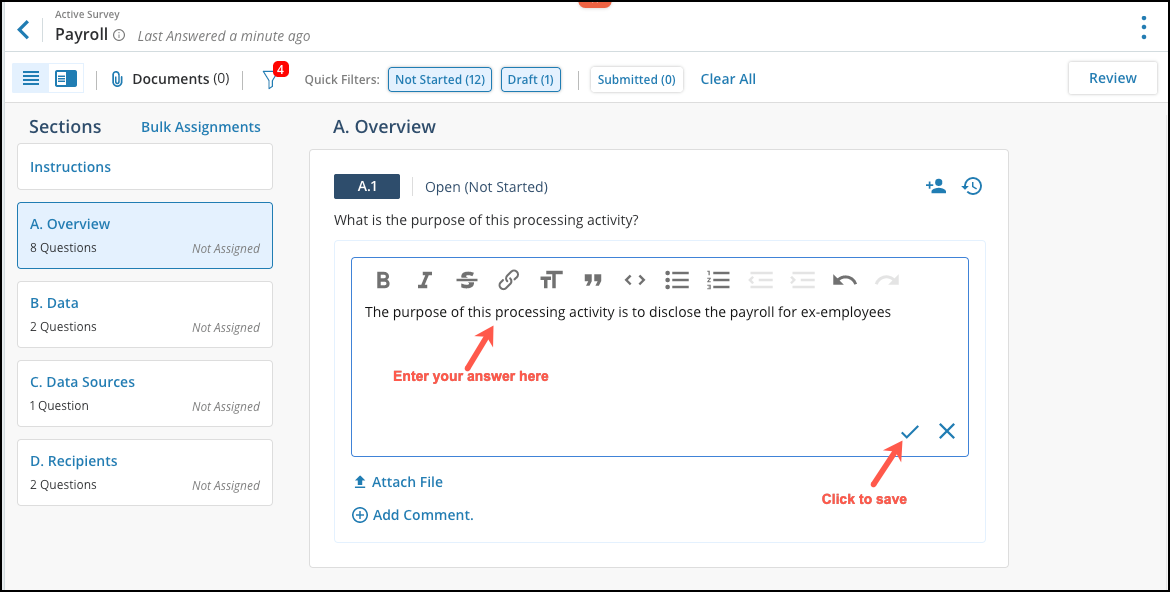 For "Open Answer" type, enter your answer and click on the checkmark to save your response.
Assigning Questions
You have the option to assign questions or sections to your team members for answers. Click here to learn more about assigning questions to your team.
Note: There is a progress bar at the bottom of the screen indicating the number of answered as well as unanswered questions.
Reviewing Survey
The Review functionality allows responders to review a scrollable summary of all their responses at any time, or before submitting their completed survey back to the data processing officer (DPO)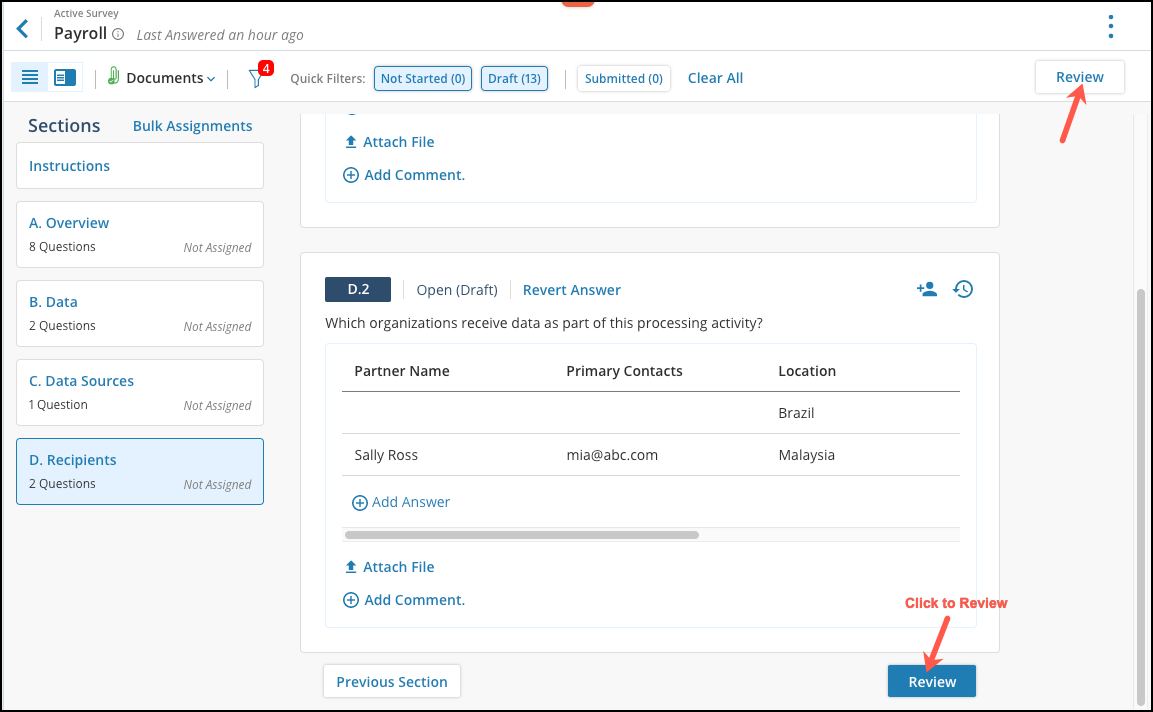 1. Click on the Review button as shown above.
Alternatively, you can also click on the Review button on the upper right of the active survey.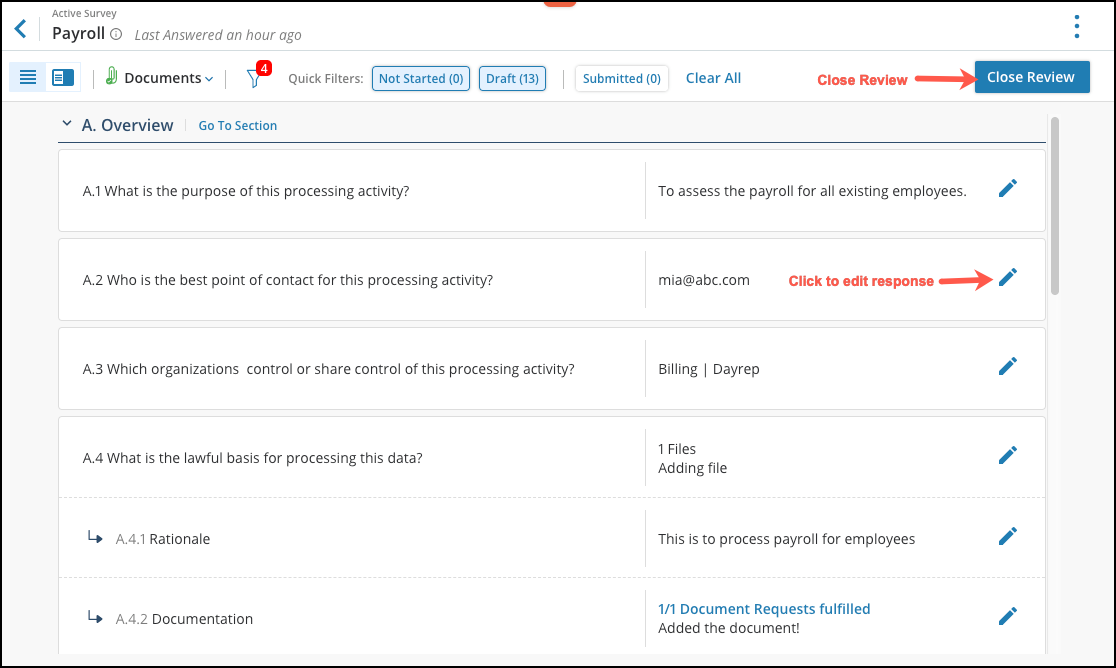 2. Here, you can review your answers. Click on the Pencil icon to edit any response if required.
Note: Click on the Close Review button to return to the Answering screen.
Submitting Answers
The last step in the Answering process is to submit answers back to your Data Processing Officer. (DPO)
Note: If you were assigned a set of questions for answering, please click here to learn how to submit your answers back to the Assignor.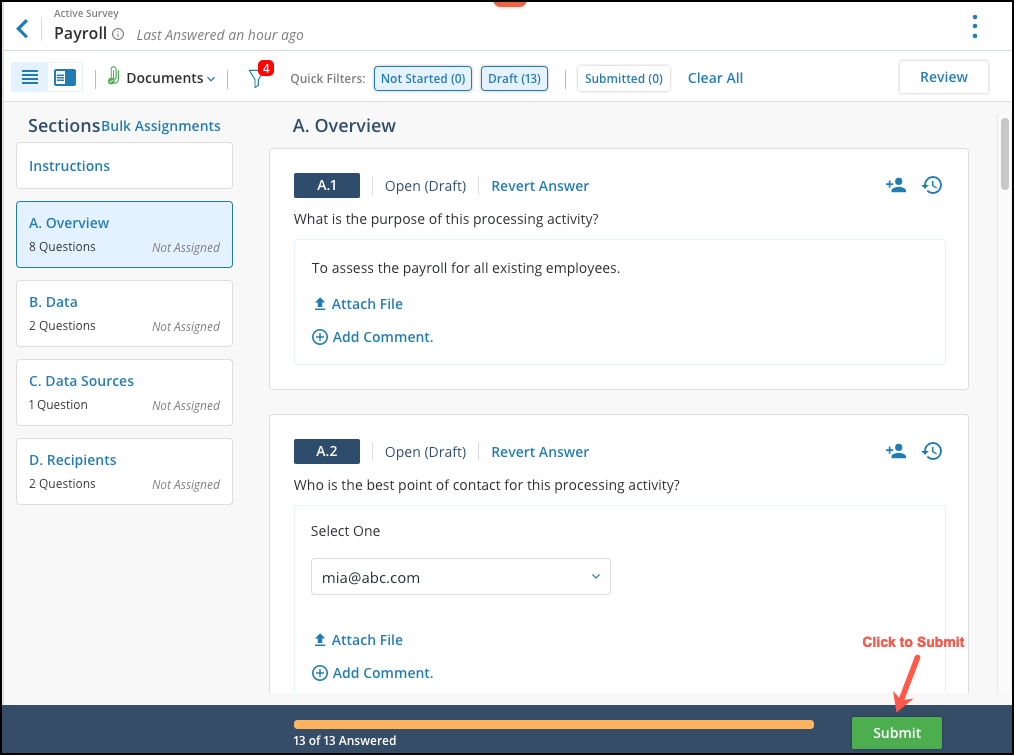 1. When you are done answering all the questions, click on the Submit button at the bottom of the screen as shown above.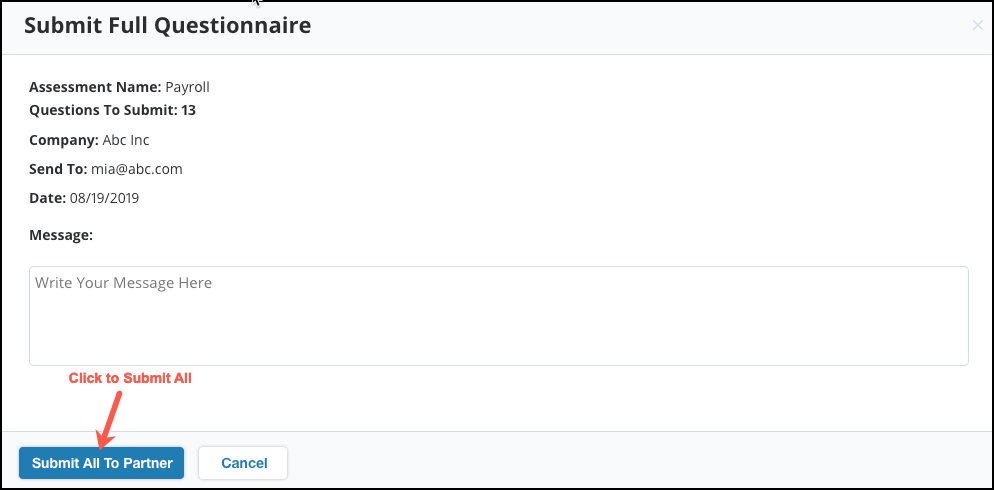 2. Here you can enter an optional message for your DPO and click on the Submit All to Partner button to proceed.
Click here to learn more about submitting answers back to your DPO.